Description
Model
"9612 HEAVY HANDMADE"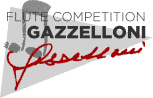 1ST PRIZE INTERNATIONAL COMPETITION FALAUT "GAZZELLONI"
YEARS: 2016, 2017, 2018, 2019
SOLDERED TONE HOLES
HEAVY WALL
PROFESSIONAL STRAUBINGER Synthetic Pads with StabilizerContact us to know availability and waiting time
Headjoint, body and footjoint
STERLING SILVER .925
OPTIONAL PLATING: 24kt GOLD or 9kt ROSE GOLD plating:
 +780 € (true thickness)
Our 9612 flute is distinguished not only for excellent craftsmanship,
but also for an improved mechanic 
PINLESS ULTRATEC®
. It's the best mechanic you can desire
It has Heavy Wall body that makes the sound more full and powerful!
Produced with the utmost attention to detail and hand-made.
Installed SYNTHETIC PADS and white gold springs.
STANDARD FEATURES
Material
Headjoint, Body, footjoint: sterling 925 silver

Silver plated keys

SPRINGS: White GOLD

OPTIONAL TUBE YELLOW TRUE 24kt gold plating (+780 €) (not keys). We add true 24kt gold plating on the internal and external tube surface , which makes the plating harder and more durable. It is not only colour! We add true thickness to the flute surface!

OPTIONAL: Sterling silver mechanics (Keys, rods, pivots): +3210 Euro

Soldered Tone holes
Since drawn and rolled toneholes are constructed from the flute tube itself, the flute has slightly less metal and weight than a flute with soldered toneholes. A thicker tube will generally provide a darker, richer sound. Many flutists find that they can achieve the flexibility they desire along with the complexity of sound typically associated with soldered toneholes by selecting the optimal tubing thickness. Because soldered toneholes are made separately from the flute tube, they are by nature thicker than drawn and rolled toneholes. This characteristic, combined with the solder or braze that is used to fuse the toneholes to the flute tube, brings more weight to the tube. The result is a flute with positive resistance and a dark, dense sound. Soldered toneholes are generally a good choice for flutists who play with a fast and compact air stream by providing stability without overpowering the flute.The soldered tone holes are perfectly flat so the the pads closing are more reliable over time
New system Headjoint TITANIUM
Stopper plug

________________

This is a device that replaces the standard cork stopper.
It leaves the headjoint to vibrate more freely thanks to the very small contact surface (has only one little rubber gasket, installed and centered handmade).
It consists of one piece to fit in the same way you mount the standard cork stopper.
It is made of TITANIUM, oxidation resistant almost as platinum, extraordinary hardness/weight ratio. It weighs about 40% less than steel but with similar resistance.
This system will make your flute easier to play at lower notes, and especially the second and third octave sound become warmer and ready.
Footjoint
B-Foot
Headjoint
CUSTOMIZATION: You can choice from our several sterling silver headjoints type.
Mechanic
we have installed for the first time a pinless mechanics with an exclusive design, called PINLESS ULTRATEC®, which allows maximum precision and silence. Our ULTRATEC® mechanics is characterized by the total absence of adjustment screws and a series of special levers prevents the keys from easily lose their settings, and allows fluidity and manageability never seen before, even for the most difficult virtuosic passages.
Thickness Body
Heavy Wall 0,018"
SYNTHETIC PADS

HIGH PRECISION

STRAUBINGER

These world-renowned pads are made of mostly synthetic materials. The advantage of this is that they do not absorb moisture and as a result do not change shape. This consistency gives the pads a high degree of reliability.

Synthetic pads with stabilizer, which are made using a stable plastic base and durable synthetic leather, have been widely adopted as essential components of a high quality Handmade flute. Compared to traditional felt and paper pads that require frequent adjustments, They are more tolerant of environmental change and remain in top playing condition for a longer period of time.Synthetic pads enables the player to achieve a clear response with a more mature, nuanced sound.

Open Holes with plugs
central openings are covered by the fingertips when depressed. Students may use temporary plugs to cover the holes in the keys until they master the more precise finger placement needed to play open-hole keys. Some players state that open-hole keys permit louder and clearer sound projection in the flute's lower register.Open holes can be used for effects such as bending and shading, and the player can crack some holes to bring pitch back up when playing softly on high register notes. Playing open holes requires and therefore develops fingering accuracy that is not essential on plateau keys. Some clever trills that make use of the open hole venting for better pitch. Open hole flutes can be used as closed hole by inserting plugs in the holes
OFFSET G

or

IN LINE G

OFFSET G + SPLIT E

IN LINE G ( Without Split E)

French Pointed Arms
A key design that connects keys to the rod with a raised, pointed arm which extends to the center of the key. Also refered to as "Styled keys". It gives more strenght to the keys.
Case + Bag
Elegant red wooden case with bag